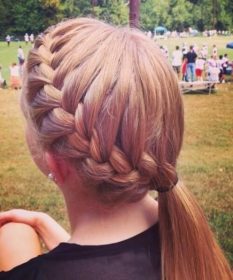 There are some timeless haircuts that will always look good, and can be tweaked to suit any age or face shape. The humble bob is one of these.
A bob can be defined as a number of different hairstyles, from curly to straight, long to short, symmetrical to asymmetric. It can have bangs or no bangs, or side sweeping bangs. It is really a template on which a thousand great styles can be based.
There are some variations on the bob that simply never go out of style, however, so if you are looking for a new cut that isn't too trendy but also gives you a stylish, sophisticated look, then here are three bob options you can consider:
Stacked Bobs
A stacked bob is the kind of bob where the back of the hair is cut in layers or 'stacks' to create volume and texture. It is a style that celebrities like Victoria Beckham have taken on as their signature look.
The stacked bob can work in any color and with or without bangs, and you can also play with the length at the front, though the back will need some shorter layers to create the stacked bob shape and effect.
This is an easy to wear style that you can pretty much 'wash and go' with, as the texture is provided by the cut, so no extra styling and products are needed. It can be a cute look while growing out short hair, a good mid-length style if you want to go shorter, and generally a fun style you can dress up with nice accessories and try in all kinds of colors.
Classic Bob with Straight Bangs
Another classic look you can get from the bob is a straight, simple bob with bangs. This is a look that has been worn by a lot of models and actresses, including Taylor Swift, Natalie Portman and Alexa Cheung.
The length of both the bob and the bangs are how you modify this to suit your face shape. Longer, wispier bangs can soften a square jawed face, whereas a shorter hair length that falls at the chin can make an oblong face look less long. For round or heart shaped faces, most lengths work for the hair, but the very short style of bangs is best avoided unless you have great cheekbones – let them fall to at least the eyebrows for the most flattering look.
Curly Pin-Up Bob
If you love the vintage look of old school Hollywood starlets from the fifties, or modern stars who have imitated that look from time to time like Gwen Stefani, then a bob with soft waves or curls gives you all of that glamor while still being an easy look to achieve.
If your hair has a natural curl, you simply need to scrunch dry it, however even if your hair is very straight naturally, a few minutes with curling irons or using rollers can get you this look very simply.
The bob is definitely here to stay, and these are just three of the variations that are timeless hairstyle classics!