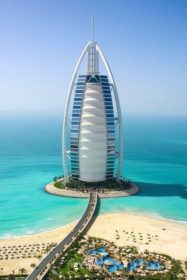 Dubai is a city that enthrals and excites in equal measure. It is known for being an extravagant – even opulent – place to live, and its exotic buildings and culture make it a draw for many people. There are a lot of people from all across Europe, and the rest of the world, who have chosen to move to Dubai to enjoy a different kind of lifestyle, and to find work that they might not be able to back home. Dubai is more than a playground for the wealthy, however. It is also a place of cultural importance, with a rich history stretching back many thousands of years. It's a place that exudes glamor, but that also is architecturally significant. It is a city that is full of contradictions, but each one just makes it a more interesting and exciting place to be. It's not hard to see why anyone would want to move there and make it their new home. What are the best things about living in Dubai for someone coming from abroad?  
Religion
While it's true that Dubai is a mainly Muslim city, it is also an extremely tolerant and integrated city. So whatever your religion – as long as you are courteous and follow the laws of the country – you are free to practice it. Mosques, temples, synagogues, churches, they all sit side by side. It's a peaceful place to be for those who are religious, and for those who prefer not to think of religion at all. If you are looking for a place free of judgement, Dubai might be just the place.
Climate
It's hot in Dubai, and it stays that way for most of the year. When we say hot, we mean it; average summer temperatures reach 360C (96oF) in August, and only dip down to around 190C (660F) in January before creeping back up again. For sun worshippers and those who are tired of the rainy seasons in the rest of the world, Dubai certainly hits the spot. Just make sure that your accommodation has a good air conditioning system or that you can get in touch with a prompt air conditioner repair service such as AC Service Dubai quickly if you need them. You wouldn't want to be left to manage in the heat – not if you want a good night's sleep!
Housing
It may not be possible to buy a house in Dubai as they are almost prohibitively expensive, but renting an apartment is no problem, and pretty cost effective too. Most of the apartments in Dubai are serviced and furnished which makes moving from place to place extremely easy.
Business Opportunities
Anyone who wants to start a business will be welcome in Dubai. It's the kind of place that loves an entrepreneur, and there are plenty of people with deep pockets who will be happy to invest in a start-up that looks interesting. The economy in Dubai is growing quickly, so it's the ideal place to start a new business, or to relocate an existing one that needs a bit of a boost.
Downtime
Dubai isn't just about working hard and earning loads of cash (although that is part of it). It's also about having fun. Although the business side of things might be the first thing you think of when anyone mentions this impressive city, it's also easy to enjoy yourself there when you've got some free time too. There is always something new opening up, so you'll never run out of things to do there. Examples include going to the beach, visiting the famous – enormous – shopping center, going to the Motiongate theme park, and party at a nightclub, or a family friendly rave.
Multi-Cultural
We've spoken about the amount of religious freedom there is in Dubai, but the city is also hugely multi-cultural. You will find people from all over the world in this one spot, and if you want to find out more about their countries, learn a new language, or make new friends, there is no better place to do it. There is something about Dubai that means the majority of the people you will meet will be super friendly.
Luxury
Everything is of a high quality in Dubai. That makes it an easy place in which to live. The only problem is, whenever you go elsewhere you will immediately notice the difference! The easy fix is to stay put and that way you won't have to deal with poor service, unmaintained roads, or even poorly equipped schools.
Tax Free
Making money is fun, but there is always that little issue of paying tax. We know the tax goes to help maintain the infrastructure of whatever country we live in, but still… it's no fun when we look at our wage slips or bank accounts and realise just how much has been taken. This is not the case in Dubai. It's such an inherently rich country that no tax is taken from any money earned there. Not only will you end up with more in your pocket after a hard day's work, but you'll also not have to deal with confusing tax calculations and fines if you get it wrong!
Transportation
If you want to buy or lease a car in Dubai, you certainly can do (cash is preferred), but with such a good public transportation system, it may not even be necessary, saving you even more money. The Dubai Metro is always kept clean and runs so smoothly and efficiently it's really remarkable, especially the first few times you use it. What's even better is that it's – relatively – cheap. If you prefer to stay above ground, that's fine because there are plenty of well-maintained buses to get you where you need to go. There are lots of taxis available if you like the idea of your own space, and as for air travel, once you have been granted a resident's visa you won't even have to wait in line at customs.
Liberal
Yes, there are a lot of rules in Dubai, but if you follow them, you'll be fine. These rules include not kissing in public, not being topless on the beach, not having sex if you aren't married and so on. However, compared to many Middle Eastern countries, Dubai is pretty liberal, so you can watch the TV shows and movies that you like, for example. Although it might not be as carefree as your home country, compared to many places in the world, it's not too bad at all.